Archive
January 18, 2004 - Presents for Caligula, and catster.com
Since Christmas Caligula has recieved a bunch of new gifts. We gave him some kitty grass, and his "grandma" bought him a remote controlled mouse (image here, movie here! - 2.2M) and a stuffed animal cat that purrs or meows when you touch it. He really enjoyed all his new toys.
Then, a few days ago I was out with a couple friends, and picked up a Lilo and Stitch blanket. It was for me, because my feet get cold and I don't always want to drag out a huge comforter, but Caligula has claimed it as his own: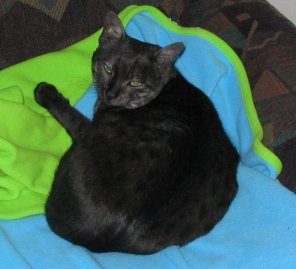 In other Caligula news, he now has his own site on catster.com. Now he can link up with his other kitty friends, check out his site: www.catster.com/?105180.
December 13, 2004 - Happy 1st Birthday Caligula!
Today, December 13th, we celebrate Caligula's first birthday!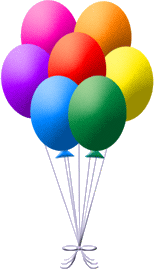 We went to the pet store this weekend to pick up a few gifts for him. A mat for his food, some toy mice, a tastey soft food dinner, some freeze dried shrimp, and a laser pointer. Our little kitten is so grown up now!
November 11, 2004 - Caligula Investigates New Fish
Recently we purchased a couple angelfish, and Caligula has expressed quite a bit of interest in them. Luckily the tank is up high enough so he can't torment them *too* much.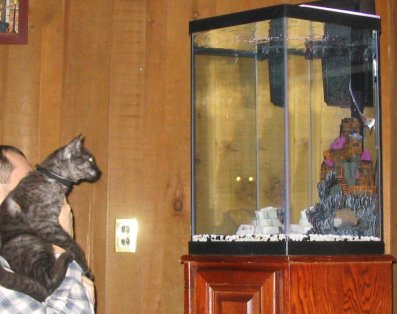 September 18, 2004 - Caligula Attacks Gummies
I started working full time again this week. Our little Caligula is not too used to be home alone all day, so when we come home he wants a lot of attention. We play with him a lot, but the other night we were getting settled into bed and we heard a plastic rustling noise on the floor. Caligula had my bag of gummie bears!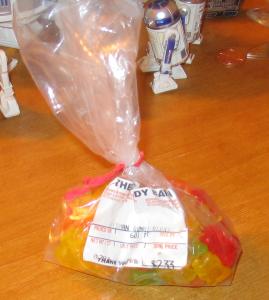 We couldn't help but laugh when we discovered what he was attacking. Cats don't eat gummie bears! And they had been sitting on the counter (where Caligula is not allowed) for days. Then he brought them all the way into our bedroom to show us how bad he was being and to get attention. Silly kitty!
September 6, 2004 - Caligula's New Bowls
This weekend we ended up going to a big pet store in North Wales after we found the local pet store to be closed for the holiday. While we were there we picked up a couple new bowls for Caligula, since his old one was a simple plastic dish, and he always managed to spill food into the water side. We decided on some dark blue clay bowls that were heavy enough that he wouldn't knock them over or push them around as he did with the old ones, and they look pretty cool.

August 10, 2004 - Caligula's Tail
Back in April Caligula had a mysterious accident which resulted in a hurt tail. It healed but there was a bit of a lump in his tail for a few months, which bothered me a bit. Then the other night I was on the floor playing with him and I felt all the way down his tail and realized that the bump was almost completely gone! You can still tell that there is a bit of a kink in it if you know what you are looking for, and sometimes when he walks you can see that it's imperfect, but I'm very happy to see that it's finally healed completely and feeling nice and not bothering him.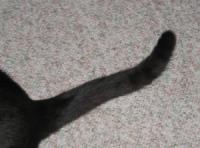 When I went to take this picture, I chased him around a bit to get a good one, and in the end he ended up crawling into his carrier and hiding, it was so cute, so I took a picture. He's gotten so big! I remember when he was just a little baby kitten and the carrier was so big for him!
July 19, 2004 - Caligula meets Cargo Kitty
Cargo Kitty is a cat that lives at Michael's workplace, each weekend he goes home with someone. We've brought him home several times in the past, but once we got little Caligula we were reluctant to bring Cargo home until Caligula was neutered and properly recovered. This past weekend was the first time our schedules lined up so that we could be home all weekend with the both of them.
Things were a bit scary at first, a lot of puffy fur, hissing, growling, but both of them eventually calmed down a bit. Caligula got into the habit of chasing Cargo through the house, and that always ended in some growling. But as the weekend progressed, they got more used to each other, so they could at least be in the same room without going crazy. And we were happy that neither of them was hurt in the slightest by each other.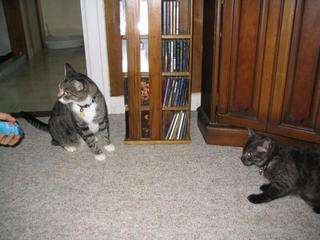 By Sunday night they seemed to be much better, even if they still tended to get a bit jealous when we gave attention to the other cat. Of course Monday morning was when Cargo had to go home! We had a peaceful night sleep last night while the cats just ignored each other. I think this was a good weekend, we know that Caligula won't back down, or become horribly frightened, or become agressive toward us if we bring another cat home. This is great for the future if we do decide to adopt another kitten!
I took a bunch of pictures this weekend, they're in the gallery here.
July 16, 2004 - Caligula gets his papers, and some random photos from July
A few weeks ago we recieved Caligula's papers in the mail (we had agreed to get him neutered, so the breeder with held the papers, pretty common practice). So now we know who his parents are! Yay!
Father: Triangle Sabu Amir
Mother: Pasha Kai's Echo
I've also been taking pictures these past few weeks, and never got a chance to fully share them with everyone. So I put a bunch that I especially liked in the gallery, here.
June 26, 2004 - Caligula's feeling better
Caligula has completely recovered from his little cough, I'll be giving him his last dose of Clavamox this evening. His teething seems to have also come to an end, as he's eating a lot of his hard food again without any trouble. We had friends over on wednesday night, and I was happy to see him running around and jumping and playing with our friends, feelings so much better. Horray!
June 22, 2004 - Caligula's cold and teething
Well, it turns out that the breeder was correct when she told me that congestion is not a normal side effect of the ketamine, right after I mailed her to tell him he was fine I noticed that he had a bit of a cough too! I immediately called up the vet and made an appointment. She prescribed some Clavamox (exactly what the breeder had recommended!). While we were there I also pointed out to the vet that he was having a little trouble eating hard food properly, she was at first puzzled by this, and then opened his mouth, "Oh! He's losing his baby teeth, see there should be 3 points of tooth there, but there are actually 5." Oh my poor kitty! He gets surgery, a cold, and he's teething all at the same time, no wonder he's acting so abnormal!
It's been a few days since he started the antibiotics and he's feeling noticably better, the cough has been clearing up. And now even his teeth seem to be feeling better, he's eating his favorite (hard) treats again!
June 15, 2004 - Caligula recovering
We picked up Caligula from the vet last night around 6:30. I didn't realize that I recognised Caligula's meow until then, when they were bringing him up the hallway and I heard his little mew and I knew that was my kitty. Poor guy was all sleepy and out of it. He certainly wasn't happy about where he was. He did good though, and the vet tech said they had a nice day with him because it's such a treat to have a rare type of kitty staying there. We brought him home and it seemed he was still recovering from the ketamine. Last night he spent the entire night sleeping in our bed with us.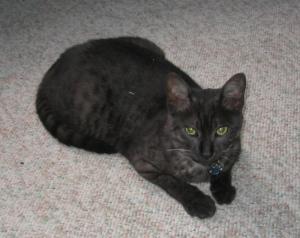 I've spent a lot of time downstairs with Caligula today. When we got back from the doctor's he was coughing a little, and his purr and meow were a bit weird, like he was congested. His eyes were a bit teary and he was sleepy too. Of course I got all worried and called the vet %) She assured me that it's not terribly uncommon for that to happen since he's still working the ketamine out of his system. As long as he's sounding better tomorrow we should be fine. It's still hard to hear my poor kitty all congested and gooey-eyed! He's playful though, so I'm sure he'll recover fine.
June 13, 2004 - Caligula turns 6 months old!
Today is Caligula's six month birthday. To celebrate we gave him some kitty milk this morning. He's slept most of the day, snuggled on the bed with me while I was reading.
Since he's six months old now, we have an appointment to have him neutered on Monday (tomorrow). We had planned to do it on friday, but I had a bit of an accident which kept us in the ER quite late on thursday night. Michael will be dropping him off tomorrow morning between 7-8 am. The surgery will be preformed with a laser, and I can call the vet hospital around 4:30 to check on him. Good luck little Caligula! Hopefully he won't be upset at us for too long ;)
June 2, 2004 - Caligula's bath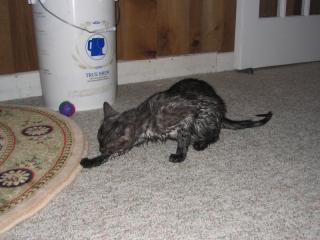 This wasn't Caligula's first bath, we've been giving them to him every few weeks since we brought him home. We've been using Bio-Groom Kuddly Kitty Shampoo. At first he's always very upset, the first bath he had he was quite loud, but he was never afraid of the bathtub (he's always climbing on it). This time he took it much better, he even walked around in the tub a bit on his own. Now he's all cute and fluffy and clean.
We were able to get a few pictures of him drying up (and the bathtub) the pictures are now in the gallery, here.
May 20, 2004 - Some pictures from this week. (click the pictures to see larger)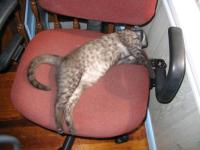 It has been a bit hot, so one of the warm days Caligula just crashed on this chair and fell asleep.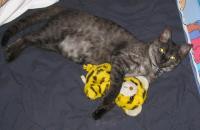 Usually he's trying to bite this stuffed cat's head off, but while sleeping he was content to snuggle.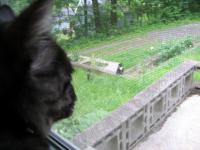 This picture shows two cats outside, while Caligula is sitting on the window sill inside, he was meeting his neighbors all puffy tailed.
May 10, 2004 - Caligula Online!
Alright, so Caligula is already online :) But now a couple of his photos are on the website for a local pet store, Fins, Feathers, Paws & Claws. You can check out the page that he's on by clicking here.
May 5, 2004 - Caligula's vacation at "Granny's"
Michael and I went on vacation to West Virigina from April 23rd through May 2nd (you can see photos from our trip here) and Michael's mother agreed to look after Caligula for the week. She tells us he was good while we were gone, and wrote up a little journal for him each day! You can now read Caligula's journal by clicking here.
We also got a few pictures when we went to pick him up, the pictures are now in the gallery, here.
April 23, 2004 - Caligula movie!
We bought a new digital camera (Canon PowerShot A70), which is MUCH better than our old camera! Well I took a couple pictures of Caligula today, but most importantly I made a short .avi of him! You can download it here:
He's playing with one of his favorite toys, a little fluffy yellow ball.
We got this camera just in time for our vacation. We'll be leaving for a week in West Virginia tomorrow. Caligula gets to vacation with Michael's mother for the week :)
April 19, 2004 - Caligula's hurt tail.
Last Wednesday the 14th I wasn't feeling well so I went to take a nap. Later that evening I was petting Caligula on the bed and when I petted his tail he meowed and ran off. I followed him to see of something was wrong and noticed that he wasn't holding his tail properly, and that there seemed to be a bit of a kink in it! I got all worried about him, since I've never had a cat with a hurt (or broken) tail. When Michael got home I showed him, and we decided that we'd just keep an eye on it until the vet was open the next day. The next day I ended up going into work, while there I was able to do some surfing on the web for information about damaged tails. Turns out he was showing pretty typical signs of a slightly broken tail. Oh no! Everything I read was quite confident that with his symptoms (and the fact that it's not horribly bent) that he'd make a full recovery. Still I was skeptical, I called the vet on friday to get their opinion and they said it was up to me whether to bring him in or not, said that unless there are complications (bleeding, a lot of swelling) there isn't much they could do. I shot an email off to the breeders to get their opinion as well, their opinion was the same as what I heard from everyone else.
So after all that worrying it looks like he'll be fine. Yesterday we were playing with him on the porch (we bought him an additional, 8-shaped, collar and have him on a lead so he can't run away) and he seemed to be holding his tail properly and not bothered by it at all. There is still a lump there, but I figure that will heal itself over the next few weeks.
April 7, 2004 - Vet visit and new tag
We had to take Caligula into the vet. The last time we went to the vet it was relatively empty, this time there was a big barking dog that Caligula did NOT like. He sat in his carrier hissing and growling at the dog! The dog was taken away within a few minutes, but Caligula was already puffy-tailed and scared. We opened up the top of the carrier and tried to calm him down. About 10 minutes later we got into the exam room and when I went to take him out of his carrier, he growled at me! He didn't want to come out. Eventually I was able to pull him out and give him to the vet tech. He was all puffy-tailed again, and growling. They weighed him, 4.1 pounds! He had gained a pound since we brought him home less than a month ago. They then took him away to take a blood sample and give him his vaccination. Poor Caligula did not like leaving us, and when they brought him back he was all scared and unhappy. His stool sample came back fine, his FIV and Feline Leukemia tests all came back negative, and we were sent off with our healthy, albeit upset, little kitty.
Caligula's tag came in the mail on Tuesday! It's a blue paw tag from petsonthenet.co.nz, a pet site based in New Zealand. At first I was reluctant to buy from so far away, but it was only $13.50 USD, including shipping! So we figured it was worth a couple weeks wait. I took some pictures today, they're in the gallery, here.
March 26, 2004 - Nail clipping and more pictures!
Since we've had Caligula for over a week and a half, we figured he'd trust us enough to let us try out clipping his nails. Apparently cats don't like this much, so I waited until he was asleep. He took it fairly well!
This afternoon he decided to be really playful and crazy while I was working on a perl script. When he's in these moods he'd rather chase my cursor and attack the monitor, so I decided to take advantage of this and take some pictures of him near my monitor ;) But the real gem of the day was the picture below: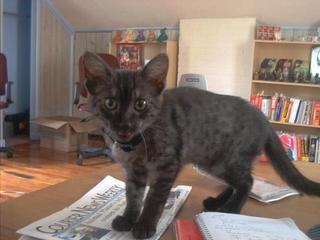 The pictures are now in the gallery, here.
March 22, 2004 - More pictures!
We had a couple friends over this weekend, Caligula was really great around them. He wasn't shy at all, and had no trouble playing with them as soon as they walked in the door. He's so great!
We took a bunch of new pictures of him with his collar and tag late last week and this weekend, a few of him playing with his mouse in our still mostly empty blue room. The pictures are now in the gallery, here.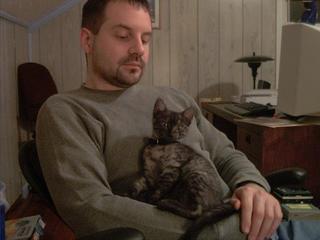 March 18, 2004 - The vet visit.
Caligula had his first vet visit with us last night at 7:30. We got there on time, but completely forgot his vaccination record, so Michael went back home to pick it up. While he was gone I took Caligula out of his carrier when the receptionist there asked if she could see him. We were sitting in the waiting room when a vet tech came out to ask a few questions. Caligula was terrified and when she went to pet him he hissed at her and began growling! I'd never seen that before! He calmed down pretty quickly and let her pick him up to be weighed (3 pounds, 2 ounces). The vet was really great, he answered all the questions we had and was a really nice guy. The vet said it would be fine for Caligula to get his rabies vaccination, and he was really good about it, didn't wiggle around a lot, just let out a loud meow. He was fine afterwards. At the end of the exam the vet assured us that he was a normal healthy kitten, who purrs very loudly and is very talkative. Yay Caligula! We'll have to go back in a couple weeks to get the last shot of his vaccinations and the vet suggested a test for FIV and feline leukemia, and then again when he's 6 months old to be neutered. We got home around 9 and he got lots of treats for being so good.
March 16, 2004 - Day 4
Caligula seems to be calming down more. He still walks around an meows a bit, but not nearly as much as before. For the most part he's letting us sleep through the whole night now, when he does wake up he leaves the bed and room to go play. He seems to be quite fond of sleeping on my lap while I'm on the computer. Unless of course work emails me and I need to do real work, then he's walking all over me and getting in my way %) He loves the little toy mouse that we got him, and already is starting to play fetch with us from time to time, it's so cute! And he needs to learn the difference between people food and kitty food. He climbed up Michael's leg about half a dozen times during each dinner we've had at the table since bringing him home. Last night he wouldn't leave us alone while we were eating brownies in bed while watching an MST3K tape. This morning I dropped a piece of my pistachio muffin on the desk this morning and he ate it.
March 14, 2004 - Caligula comes home!
We left home to pick up Caligula a little after 1 on the afternoon of Saturday the 13th. The drive out there was a bit longer than we expected because of the horrible Philadelphia traffic, but the drive through New Jersey really wasn't bad at all. We had no trouble finding the breeder's house (thanks to their great directions). We arrived there a little before 4.
So I met my first Maus! After reading that some are a bit shy around strangers, I was pleasantly surprised to find their cats were very well socialized, and quite friendly. Roger and Lisa are really great people, and were very forthcoming with all sorts of information about Maus, and their care. I am so happy with our choice of breed and breeder!
The ride home wasn't too bad. After cat-sitting Cargo Kitty so often we're used to the meowing when kept in a carrier for more than just a few minutes. Caligula meowed for the first 20 minutes or so, fell asleep for a bit, woke up and meowed a bit more and we'd talk to him. The ride home took about 2.5 hours.
The first 20 minutes he was in our house (we're keeping him in just a couple rooms downstairs for now) he was really scared, running away from us when we came near, afriad whenever we moved, and he kept meowing. We were really calm with him and after a little while he came over to sniff us, then started walking on us. In about an hour we were able to play with him, and when he decided to take his first nap it was on the couch with me!
When it was time for me to go to bed I crawled under the covers, and much to my surprise so did he! He loves climbing under the covers and snuggling with us. So we let him come in our bedroom last night. He'd wake up from time to time meowing, would leave the bedroom and walk around the livingroom, then come back to sleep with us again.
He's still walking around meowing this morning, but as long as we're giving him lots of attention he seems to be fine.
All the pictures we took last night are now located here!
March 11, 2004 - Caligula's new accessories.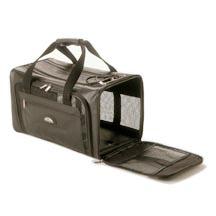 Durable and stylish, the Pet Traveler is constructed of soft, leather-like Koskin with sleek silvertone hardware. The unique internal frame support of this soft-sided carrier gives pets the security and comfort they need. Features include zippered top, front and side entrances, rotary locking system, mesh panels for ventilation, seat belt loops for car travel, and a snap-in, padded floor for easy cleaning and added support. Also has convenient front and side zippered storage pockets. Approved by most airlines for underseat use. Can be used to transport pets up to 22 lbs.
We picked up this pet carrier for caligula on Tuesday. We'll be needing it for the 2 hour ride home from the breeders on Saturday.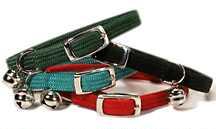 Purchased one of these "Safety Stretch Cat Collars" for little Caligula, a black one.
Only two more days until he comes home to us! Yay!
February 28, 2004 - More pictures of Caligula!
This week we recieved a couple more pictures of little Caligula. He's 10 weeks old now!
He's so cutey! We get to pick him up in two weeks! Yay! I can't wait.
January 25, 2004 - We get our first pictures!
On thursday night we were watching this history channel it's barbarians week (I think I mentioned that in a previous post) and they had specials on ruthless dictators. Well I was joking that we should name the cat "Ivan the Terrible" and then a special on Caligula came on and I joked that we should name him Caligula.
-Michael- Hmm, you know, I actually like that name.
-Lyz- It does sound nice.
We got to work on friday morning determined to find a name for our kitten. Searching through all sorts of Egyptian names, then through names of gods, then did more research into Caligula. He had a hard life, he was perverse and paranoid, killed many people and enjoyed watching torture. At his height as emperor of Rome he thought himself a god, and even moved to formally deify his favorite sister. Not a nice guy, but you can't deny that some of these attributes are cat-like! *grin* The name "Caligula" is actually just a nickname meaning "little boots" which was given to him by soliders at a camp he spent time with at with his father when he was younger.
We were quite attached to the name Caligula. We figured people who understood the reference would be amused, and it sounds neat otherwise!
Later that day we sent off the deposit. Then I emailed her to tell her we had decided on a name. The breeder the deposit yesterday and sent us pictures!
January 22, 2004 - My Search for the perfect breed.
I emailed a number of cat breeders yesterday, Maine Coons, Bengals, Norwegian Forest Cats, Egyptian Maus. This afternoon I got a few emails back, one of which was from the Egyptian Mau breeder in southern New Jersey. I was very excited to recieve this email, and even more excited to learn that the price of them was well within my given range AND the breeder had a couple kittens the color I wanted ready for adoption in March!
Apparently the Silver are the most popular, but I was going for darker and less typical, and this color is beautiful, precisely what I wanted!
A description of the coloration:
SMOKE: pale silver ground color across head, shoulders, legs, tail, and underside, with all hairs to be tipped in black. All markings jet black with a white to pale silver undercoat, with sufficient contrast against ground color for pattern to be plainly visible. Nose, lips, and eyes outlined in jet black. Upper throat area, chin, and around nostrils lightest in color. Nose leather: black. Paw pads: black with black between the toes and extending beyond the paws of the hind legs. Whiskers: black.
I was reading through some FAQ and here are some things about them:

The Mau is a very gregarious and interactive cat that likes to be with people and other animals and join in with everything that is going on.
A Mau will follow you around the house, ride on your shoulders and sit on your lap (usually on top of the book you are trying to read).
Maus tend to bond very strongly to their owners and some Maus can be shy of strangers.
The Maus are very athletic and will perform stunning leaps.
They are moderately active but not as hyperactive as the Abyssinian; they are often referred to as the "gentle cousin" of the Aby.
Maus are very protective of their toys carrying them around and growling at anyone who threatens to remove them.
Maus are extremely intelligent and will learn to open cupboards and draws, especially the ones where food and toys are kept.
Many Maus will play fetch (for what seems like hours) without any special training.
Maus certainly do not have the loud voices of the oriental breeds such as the Siamese, however some are quite talkative. They will often chirp and chortle rather than mew.
Although the Mau was accepted for championship status by CFA in 1977 it is still a very rare breed. CFA recorded a total of 566 Egyptian Mau kittens born in 1996 worldwide, compared with over 6,000 Siamese and over 95,000 Persians!
The Egyptian Mau is a 100% domestic cat. It could be argued that maus are in fact the oldest breed of domestic cat since there are records of mau-like cats from thousands of years B.C.
This sounds like an appropriately active cat for my tastes.
They are medium sized cats, so not big like the Bengals or Maine Coons, but a medium size cat will fit nicely in our house.

So Michael and I are going to discuss this all more this evening, hopefully arrange a trip to the cattery sometime in the near future.